Regular price
Sale price
$29.95
Unit price
per
Sale
Sold out
Blended with biodynamic collagen peptides and organic botanicals, this balancing herbal tea will help to relieve stress, invoking a deep sense of calm and healthy inner balance while assisting with improved skin texture, thicker hair and stronger nails. 
If your mind, body and soul are in serious need of alignment, Aphrodi-Tea was made for you. Each cup of this organic herbal tea is equivalent to a week at an upscale wellness retreat (minus the drumming circles). With each sip, expect to peel away layers of stress while you cultivate a deep sense of calm and healthy inner balance. From youthful skin to treating tummy troubles and busting stress, Aphrodi-Tea is a must-have in your wellness arsenal. 
, re-energising and replenishing, this herbal tea is a dose of delicious goodness. The luxurious infusion of moringa leaves, green tea sencha, elderflower, ginger root and Siberian ginseng tantalises the palate and rejuvenates the body. Blended with ingestible bioactive collagen peptides, you'll also be giving a helping hand to the health of your hair, nails, skin and bones. 
Aphrodi-Tea is made entirely from functional ingredients that are free from chemicals, artificial flavours, colours and added sugars – exactly the way nature intended. Whether you have it hot in winter or as iced tea in summer, every sip of gut-loving Aphrodi-Tea is a natural way to support optimum health and wellbeing.
Ingredients :
Collagen peptides: Offering structural support to keep skin looking plump and youthful, hair healthy and nails strong. 18 amino acids combine to assist with bone and joint health while it improves gut health and energy level.
This tea blend contains certified organic:
Moringa Leaves: Loved by people with thyroid problems and diabetes, this ingredient helps support a healthy digestive system. Plus, it's jam-packed with skin-loving vitamins.
Green Tea Sencha: Helps burn calories, restore a youthful skin, and reduce wrinkles and skin damage.
Elderflower: Tastes great while it packs an antioxidant and antiviral punch. Its rich vitamin C content also makes it great for fighting premature ageing.
Ginger Root: Ginger acts as a natural circulatory stimulant, while easing digestion and fighting nausea.
Chaste Tree Berries (Vitex): Used to treat menstrual cycle problems and pain, premenstrual syndrome, and menopause.
Angelica Root: Keeps painful menstruation, hot flushes, heartburn, and intestinal upset at bay.
Siberian Ginseng Root (Eleuthero): Energy lifting, stress busting and immunity
boosting….what more needs to be said?
Functional beauty tea blend
Free from chemicals, artificial flavours, colours and added sugars
Enlivens the taste buds and revitalises the mind
Gut friendly, anti-ageing and stress-busting
Sustained energy and focus, naturally
Rich in antioxidants and nutrients that support health and wellbeing · Naturally  caffeine free
90-95% collagen absorption - meaning you get the benefits of this super nutrient
Share
View full details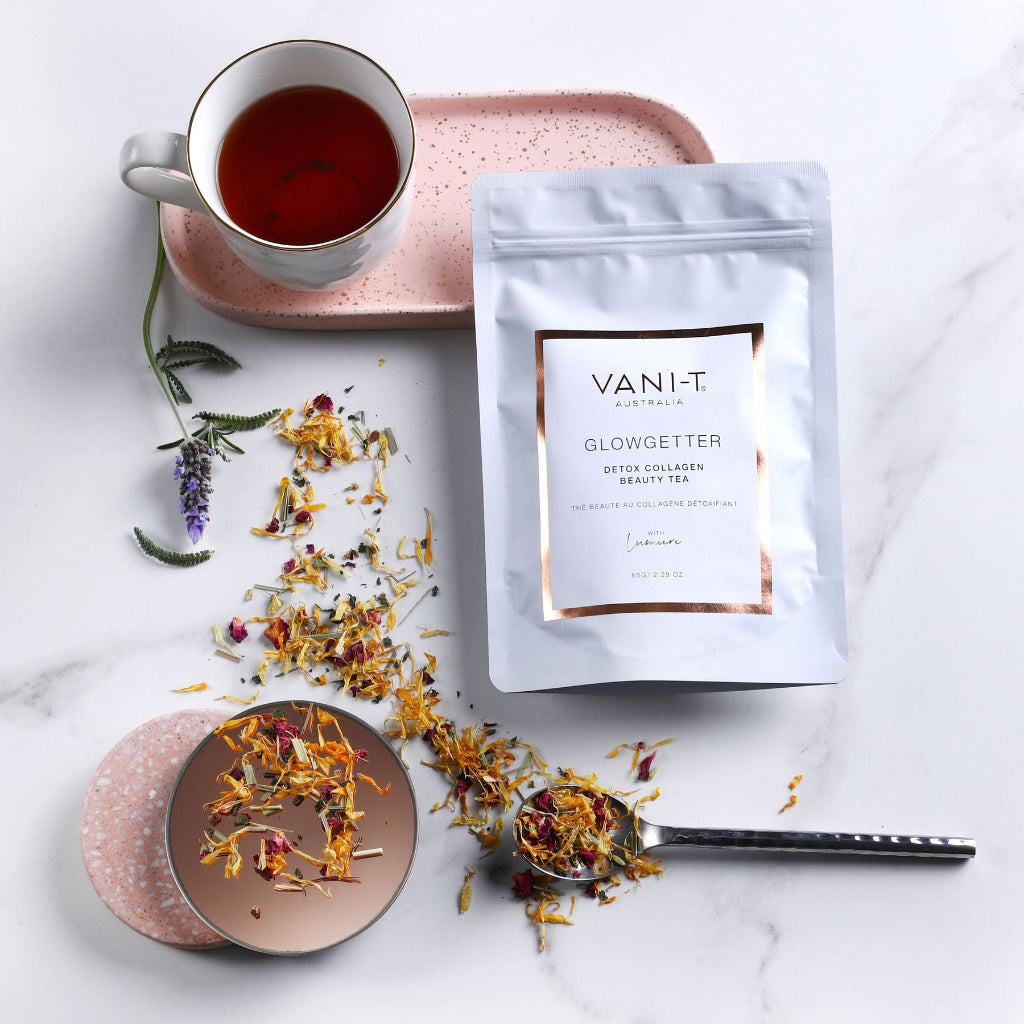 Sammi making shopping for clothes a breeze
We here at Sammi Know how enjoyable but also difficult clothes shopping can be at times.
This is why we have made sure to be specific about the brands we offer - ensuring they are all of high quality and size inclusive (size 6-22 available).
We also offer different methods to make purchasing easier - including buy now pay later options & free shipping when you spend over $100!
Streamlined Shopping Experience

Fast Delivery Times

Exceptional Customer Service

Shop With Confidence